JetWebinar allows you to use your own domain and 'white label' your JetWebinar meetings and webinars so that they appear to be coming from your own website.
To do this, you will need access to your DNS entry for your domain. This is available through your hosting provider or where you first purchased your domain names, such as GoDaddy or Wix.
The DNS will ask for the 'Name' - this is the word or subdomain that will appear before your domain name. So, for example, if your domain name is www.your-company.com, and you want the subdomain to be webinar.your-company.com, then the name would be 'webinar'.
You will also need to know your JetWebinar login URL - for example, your-company.jetwebinar.com.
PLEASE NOTE: As JetWebinar does not host the SSL certificate for your domain; you must use HTTP://, not https:// when linking to your webinar site.
DNS Entry
Add the following to your DNS Entry:
TYPE: CNAME
Name: [the subdomain word you want to use, such as webinar]
Data: [your JetWebinar URL - your-company.jetwebinar.com]
TTL: 1 hour
Hit 'Save'.
Please note: most DNS entries update very quickly, but can take up to 48 hours to fully propagate worldwide.
JetWebinar Entry
Log in to your Account Dashboard.
Click on 'My Account' along the top bar, then click on 'Settings'.
In the Custom Domain Name (CNAME) section, enter the subdomain you want to join (webinar.your-company.com)
Hit 'Save'.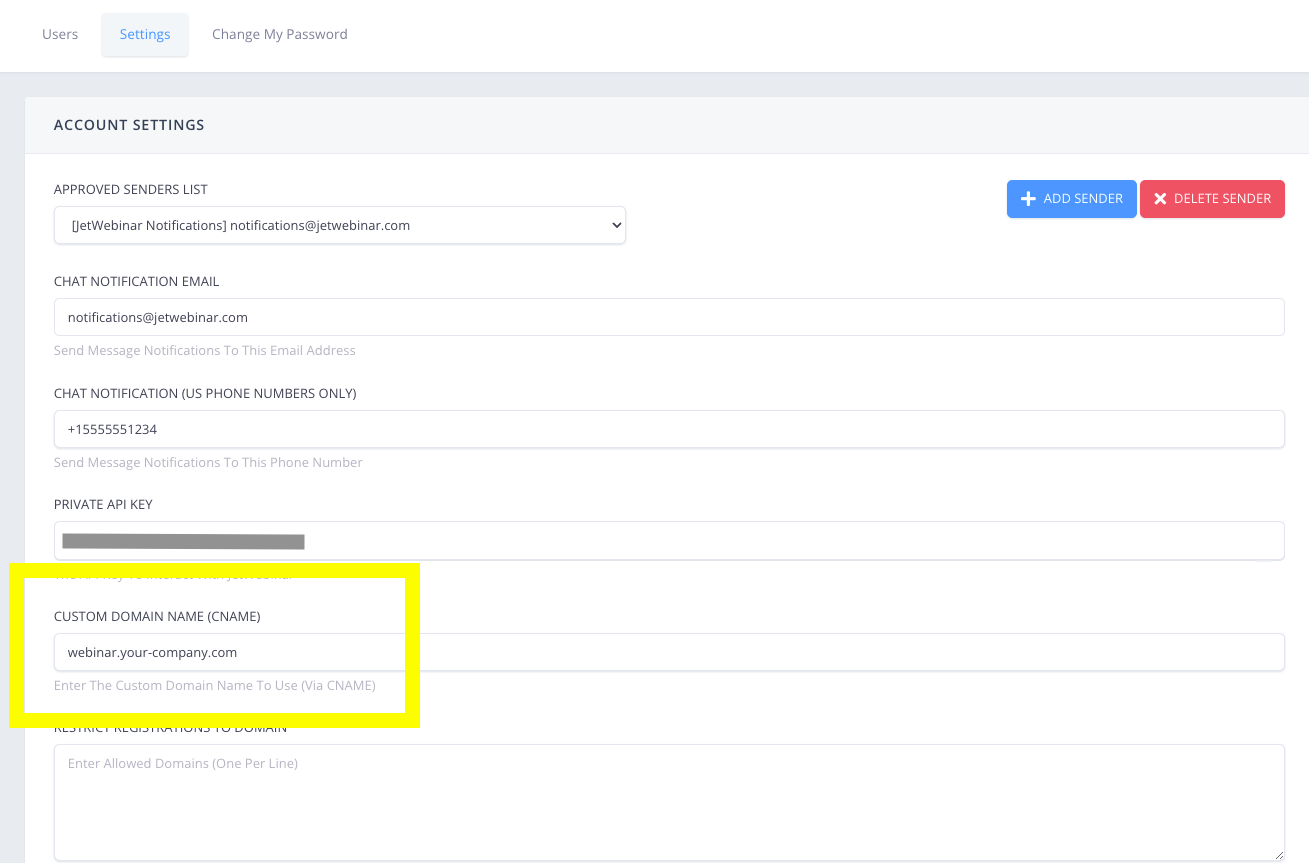 Please note: while this usually is instantaneous, it can take up to 48 hours for the DNS servers worldwide to reflect this mapping.
As always, let us know if you have any questions, comments or suggestions by sending us an email to support@jetwebinar.com or clicking on the 'Submit a Request' button along the top.
Thank you for choosing JetWebinar!